Ecolab Korea wins an award for its commitment to Sustainability
The Ministry of Health and Welfare recognized Ecolab Korea during the recently held 13th National Sustainability Management Conference on 13 June in Seoul.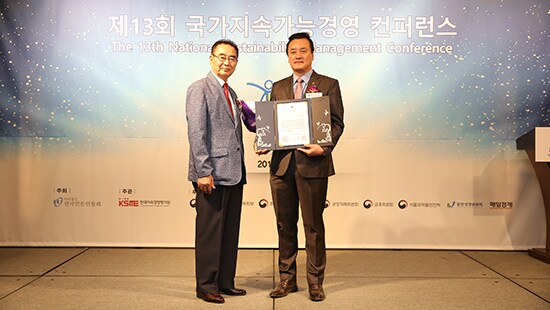 The event was hosted by the Association of Korean Journalists, supervised by Korea Sustainability Management Evaluation (KSME), and sponsored by Ministry of Economy and Finance; Ministry of Health and Welfare; Ministry of Environment; Ministry of Employment and Labor; Fair Trade Commission; Financial Services Commission; Ministry of Food and Drug Safety; Korea Commission for Corporate Partnership; and Maeil Business Newspaper.

Winners were selected by a panel of experts from both industry and academia.

Other speakers during the conference were HK Maeng, Director General for Developing Sustainability Strategies from Ministry of Environment who emphasized the role of the industry in driving environmental sustainability.

Ecolab Korea market head, YK Ryu, showcased how Ecolab's innovative technologies help customers to deliver in Creating Shared Value sustainably by reducing water and energy use.